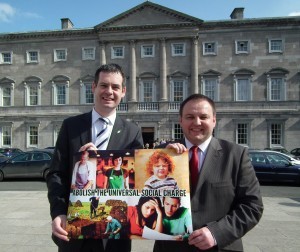 Sinn Féin's Donegal TDs, Pearse Doherty and Padraig MacLochlainn will meet the Oireachtas Commission today to clarify the appropriateness of their use of travel and accommodation allowances paid to all Oireachtas members.
The TDs published constituency accounts and showed that they used some of their allowances to take people off social welfare and employ them in their constituencies.
"I have been totally transparent about this and published it on my website months ago," Pearse Doherty TD said today. "A question has now been raised about the appropriateness of this use of the allowance, so myself and Padraig MacLochlainn are meeting the Oireachtas Commission today."
"If there is any irregularity, we will rectify it," he said. "The Travel and Accommodation Allowance is an automatic payment based on elected representatives' attendance at Leinster House. The money was used in good faith."
The move follows a report in today's Irish Independent.
Tags: