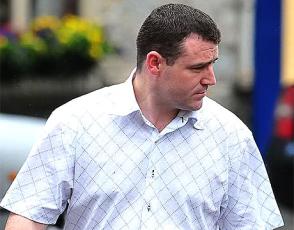 A CONVICTED sex offender at the centre of one of Donegal's most prominent paedophile investigations is back in the county after being freed early from prison.
Leo Forde, originally from Laghey Road in Ballyshannon, was in Letterkenny last night.
In March he was sentenced to nine-months in prison by Judge Eamon O'Brien at Limerick District Court, after he failed to notify gardai of his address within seven days of his release from prison last December.
In July 2010 Forde was convicted and sentenced to three years in prison for sexually assaulting a 13-year-old schoolgirl in 2003.
The paedophile is on the Sex Offenders' Register and has registered with Gardai in Letterkenny.
"I saw him on the Main Street in Letterkenny last night and recognised him right away," said one witness.
"Parents and teenagers need to know who he is. He was drinking in a bar and no-one knew who he was."
Forde was the fifth person to be convicted of sex crimes against a Co Donegal girl, who was assaulted by the now 29-year-old three times at school shed when he was 19 and she was 13.
Donegal Circuit Court suspended the last year of the sentence, and Forde was released last Christmas.
Forde was a maintenance worker at a Limerick apartment block but had since lost his job.
Gardai arrested Forde in Limerick on December 31 last after he was detained by security staff in Dunnes on Harvey's Quay for the theft of a box of Budweiser worth €18.
He was also charged with the theft of a bottle of wine at a Spar store on Henry Street, three days earlier.
Evidence was given that Forde, with an new address in Limerick city centre, gave gardai a false name during his arrest for the alcohol thefts.
Forde failed to inform gardai of his address within seven days of his release from prison.
Ted McCarthy, solicitor for the accused, told the court that his client had difficulty in registering as he did not have a permanent address, and the compliance to register under legislation could not be done if "you were of no fixed abode".
"This is where my client had difficulty, but he did, and has complied with the requirements, and in fact, registered an address within 10 days and has been compliant ever since".
Judge Eamon O'Brien heard that the maximum sentence upon conviction for the breach of the section 12 requirements of a registered sex offender was a fine not exceeding €5,000 or 12 months imprisonment, or both.
In the matters of the thefts, the court heard that the goods had been recovered.
Forde was sentenced to nine months in prison, suspended for a period of two years, and bound to the peace for two years.