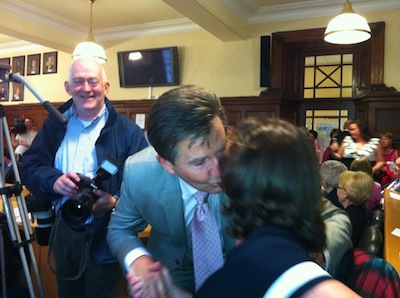 One of Donegal's greatest ambassadors, Daniel O'Donnell, has just received the Freedom of Donegal at a touching ceremony at County House in Lifford.
A large crowd of family and friends gathered for what the singer said was the biggest honour of his career.
There was standing-room only as tribute after tribute was paid to the 50 year old entertainer.
The singer received the award in official recognition of his contribution to music and the ambassadorial role he has undertaken for Donegal for decades.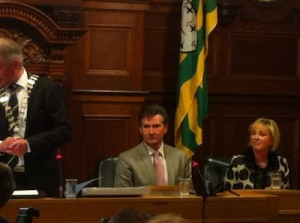 The Kincasslagh man becomes only the fifth person to receive the honour joining sport-stars Shay Given, Packie Bonner, songwriter Phil Coulter and the Brennan family from Clannad.
Those who joined Daniel included his wife Majella, mother Julia, sister Kathleen, brother John Bosco, sister Margaret (Margo) and best man PJ Sweeney.
Among the many guests included singer/songwriter Peter St John and the Canadian Ambassador to Ireland His Excellency Loyola Hearn.
Sitting next to his wife Majella, the singer said he was genuinely overwhelmed by the honour.
"I am honoured to be here. It's a priviledge that I never expected but I am thrilled and delighted. As I listen to everybody speaking today it's a privilege to be alive to hear these words that people only hear at their own funeral. I am honoured and humbled.
"I was very fortunate to have been born into the family I was born into and to live in the community I lived in and to have the teachers I had and the various people who came into my life to form me to be the person I am today."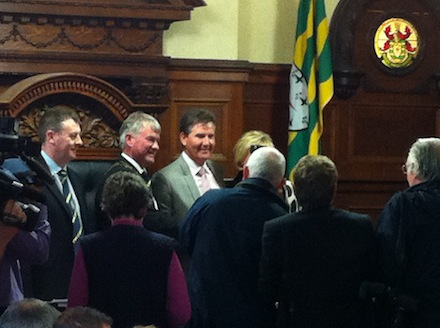 Daniel, who has sold 12 million records, received a specially-commissioned badge and pin which is reserved exclusively for those who get the Freedom of County Donegal.
The badge, made by Letterkenny artist Geraldine Hannigan and mounted on a background designed by Fionntan Gogarty of Artwoks, is a silver replica of the county badge.
The badge, which includes the O'Donnell Cross and an Lunula, was granted to the county council by the Chief Herald of Ireland as part of a Grant of Arms to the County.
A number of speakers from all the political parties paid tribute to the singer.
Mayor Noel McBride said "This honour is being made to one of our own – one of our greatest ambassadors – Daniel O'Donnell.
"It is for his achievements in music, what he has done for charity and his role as a wonderful ambassador.
"I hope it will reflect the great esteem in which the people of Donegal hold Daniel O'Donnell in," he said.
Donegal County Manager Seamus Neely said Daniel's music and his work around the world played a huge role in bring the Donegal diaspora together.
"It is something that countless thousands of people around the world takes solace from," he said.
Representatives of all the political parties including David Alcorn, Marie-Therese Gallagher, Frank McBrearty and Padraig O'Doherty also paid their own personal tributes to Daniel.
Canadian Ambassador Loyola Hearn said people in Canada travel through three feet of snow to get to see Daniel sing!
"Donegal has become our favourite part of Ireland and that is without doubt. My wife is Daniel's biggest fan. The calendar on our wall and the book in our hall is all Daniel O'Donnell.
"Maureen, my wife, said that somewhere along the line she would like to meet Daniel O'Donnell. So mission accomplished today," he said.
Singer-songwriter Pete St John, the writer of the Fields of Athenry said he was simply jealous of Daniel.
"He has won the hearts of a fanbase that most of just wish we had. I came here to honour Daniel but also to beg him to sing one of my songs," he said.
Among those who sent their apologies was Sir Cliff Richard, Deputy Charlie McConalogue and Pat The Cope Gallagher.
Daniel's father-in-law Tom Roche joined the occasion via Skype from Tenerife.
And there was a special kiss when he arrived – for RTE's North West Correspondent Eileen Magnier.