Labour Party senator Jimmy Harte has slammed Fianna Fail for being hypocrites over their attempts to block Frank McBrearty from becoming the new Mayor of Donegal.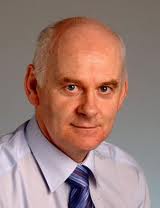 Senator Harte said he had to watch as Fianna Fail councillors on Letterkenny Town Council controlled the mayor's office for 17 years.
He said they were like "children throwing their rattle out of the pram" because they did not get their own way.
He said Fianna Fail have had their own way for a long time but that time is now gone.
"It shows the hypocrisy of Fianna Fail and all they are about. If they do not get their own way, this is the kind of thing they do.
"This is complete hypocrisy and it was unbelievable to hear a party behaving like this.
"This pact has been in place and it was supported by everyone. Unfortunately, Fianna Fail showed the bully-boy tactics they are all about in their efforts to scupper the election of Frank McBrearty," he said.
Senator Harte said he actually thought Frank McBrearty will be a fine Mayor of Donegal.
'I think Frank McBrearty will surprise a lot of people when he completes his term of office.
"He is passionate but he knows that he has to be impartial and I think he will be just that.
"I just hope Fianna Fail are big enough to commend Mayor McBrearty when he does carry out his term," he said.
Tags: