Letterkenny born and bred – and now Letterkenny man Dessie Larkin is to become the town's new Mayor.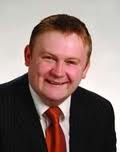 The Fianna Fail town councillor and county councillor is to become Letterkenny's first citizen tomorrow night.
The announcement is expected to be made under a power-sharing agreement with the various political parties.
Cllr Larkin's father James was also a well-known and highly-respected member of Letterkenny Urban District Council for many years.
All the parties including Sinn Fein and Fine Gael are expected to endorse the proposal which will be made by Cllr Ciaran Brogan.
The only outstanding matter is who will become Deputy Mayor with both Cllr Victor Fisher and Cllr Ciaran Brogan in line for the post.
Tags: