Well known Letterkenny born and bred Fianna Fáil councillor Dessie Larkin has recently been appointed as Town Mayor. Cllr. Larkin was first elected to the council in 1998 and this will be his second time as Mayor. Having previously worked in Unifi, Cllr. Larkin has held a number of roles including Chairman of the Peace III Partnership Board and Chairman of the Donegal County Development Board. The married father of four has a great love for Donegal and is this week's choice for 'My Donegal'.
By Caoimhe Ní Chathail
What is your favourite place in Donegal and why?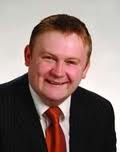 I love the area up around Ardara and Glencolmcille, obviously for the scenery but also for the nature of the people in that area too. I have to say I'm always drawn towards it so it would be one of my favourite places in Donegal.
If you could change one thing about Donegal what would it be?
It would be a motorway into it.
Who is the one person in Donegal that you look up to and why?
There are a lot of people with different skills and disciplines but I would have to say, and funny enough some people would probably pick me up on it and say he's a Tyrone man but I would consider him a Donegal man, Brian Friel because I think his use of obviously words and the way he can write stories is unbelievable and the way he has portrayed those stories in and around Ireland and especially Donegal. I'm a huge admirer of Brian Friel. I think he's a wonderfully talented man.
Daniel O'Donnell or Packie Bonner?
I would have to say, seeing as I'm a big soccer head, Packie Bonner.
What has been Donegal's proudest moment in recent years?
Donegal winning the Ulster final last year.
What has been Donegal's saddest moment?
I think any of the road tragedies, especially where there were multiple lives lost and unfortunately it's something that's associated with Donegal.
What is your favourite Donegal-made product?
It has to be Football Special!
Who is Donegal's greatest ambassador around the world and why?
We've been very fortunate, we have quite a few. I think Daniel O'Donnell has been phenomenal because he has portrayed the county all around the world and he has also done it in a way that is non-controversial but at the same time it has attracted people to the county.
Who is Donegal's most successful businessperson in your opinion?
Jason and Sharon Black.
Who is your favourite Donegal sportsperson of all time?
I would have to say Shay Given.
What is your favourite Donegal restaurant?
I think Letterkenny is spoilt for choice but one of my favourite restaurants is actually over in Dunkineely in Castle Murray House.
Donegal's golden eagles or basking sharks?
Golden eagles.
Your nomination for Donegal's most stylish person?
I have to say my wife, Mary!
What is your favourite Donegal saying or expression?
"One for the road!"
Tags: