Tyrone have ripped up the script and put it up to Donegal in this Ulster Championship semi-final at Clones.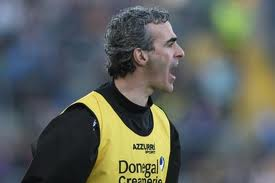 Mickey Harte's men are closing down Donegal and went in a point ahead at half time thanks to a late Penrose score.
Tyrone are playing Donegal at their own game with a blanket defence and are breaking quickly down the wings to trouble Donegal.
Jim McGuinness will need to change his tactics during the break if he is to stop Tyrone form stopping his own team from playing.
Donegal won the toss and decided to play against the strong wind in the first half.
After just two minutes Donegal were dealt a major blow when Neil Magee through injury and he was replaced by David Walsh.
Donegal settled and Mark McHugh scored a wonderful opening point after just three minutes.
Tyrone leveled things on five minutes with a successful long range free from Joe McMahon.
Veteran Stephen O'Neill added another a minute late to put Tyrone in front.
Michael Murphy got his first chance from a free after eight minutes and didn't fluff his lines.
At this stage Tyrone looked sharp and were playing Donegal at their own game by putting them under pressure in possession.
Tyrone went 0-3 to 0-2 when Donnelly closed down on goal but opted for a point.
Joe McMahon had a golden chance for a goal for Tyrone but Paul Durcan puled off a fine stop after 16 minutes.
At this stage Tyrone looked the more settled and were finding answers to break through Donegal's blanket defence.
McBrearty leveled things again for Donegal with a fine point after he was fed by Neil Gallagher.
After missing a couple of possible chances, Conor Clarke scored a fine point to put Tyrone ahead again on 25 minutes.
Letterkenny's Rory Kavanagh missed a chance a minute later to level the scores when he pulled his shot wide.
Donegal got a free and Murphy took Donegal's first score since the 18th minute in the 29th minute to make it 0-4 to 0-4.
Tyrone were bringing the ball out of defence well and Donegal were unable to get the tackle in early.
Sean O'Neill put Tyrone in front again but Ryan Bradley won a free and Colm McFadden registered his first point as the half-time whistle drew close.