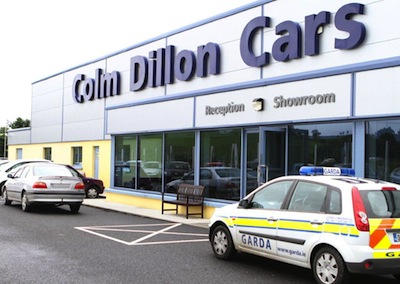 A daring gang has escaped with more than €100,000 worth of cars during a raid on a well-known car showroom.
The gang struck at Colm Dillon Car Sales in Manorcunningham in the early hours of this morning
Three "high end" cars were stolen in the raid which Gardai believe was well-planned.
The cars were parked alongside other stock in the open courtyard area.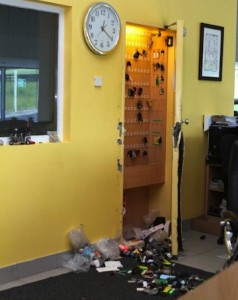 The car raiders broke into the main showroom area and went looking for keys belonging to the various cars they had "pin-pointed" to steal.
The gang located a locked cupboard used to store the keys and ripped the door open.
Dozens of other sets of keys were clearly visible on the floor of the offices at the showroom yesterday morning.
Gardai believe the thieves could have been in the building for a considerable period of time before finding the keys for the stolen cars.
Gardai are remaining tight-lipped about the identity of the stolen cars for operational reasons but it is believed they may include both and Audi and a BMW.
Gardai are liaising with the PSNI in the belief the cars may have been stolen by a gang from Northern Ireland and driven across the border close by.
It is not believed a car transporter was used to remove the stolen cars.
A clearly upset Mr Colm Dillon was at his garage yesterday surveying the damage to his garage and the theft of the cars.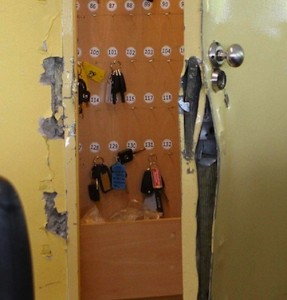 Mr Dillon said "I can't say anything at the moment. I would prefer to allow Gardai to do their job. This is just awful."
Mr Dillon is hugely-respected in business circles across Donegal where he has been in business since 1975.
He started selling cars in a small garage in nearby Ballylawn before moving to the modern car showroom at Drumbarnett in 2007.
The garage is extremely popular amongst car buyers from both sides of the border.
Gardai forensic experts yesterday (SUN) arrived at the scene of the robbery to begin their investigation.
A Garda spokesman said "A full investigation into this incident is currently underway.
"We would appeal to anybody who was on the main Letterkenny to Derry Road at any time on Saturday night or the early hours of Sunday morning and may have noticed anybody acting suspiciously to contact the Gardai," he said.
Ends
Tags: