One of Donegal's most prolific gaelic football talents Charlie Mulgrew is this week's choice for 'My Donegal'. Having captained Donegal to success in the Mc Kenna Cup in 1991, Charlie Mulgrew was then a member of the heroic panel in the 1992 All-Ireland Final.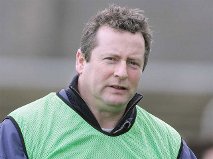 His managing career has led St. Eunan's to a county championship final and Fermanagh to the All-Ireland semi-final in 2004. With both football and business endeavours in the county, Charlie Mulgrew has great love and respect for Donegal.
By Caoimhe Ni Chathail
What is your favourite place in Donegal and why?
Forland Heights , Gweedore , it overlooks Tory Island ; great view over west coast of Donegal.
If you could change one thing about Donegal what would it be?
The weather!
Who is the one person in Donegal that you look up to and why?
Dr. Jimmy McDaid, he has been a great doctor for Letterkenny and surrounding areas, also Minister for Tourism and Sport, did a lot of good for the county.
Daniel O'Donnell or Packie Bonner?
Daniel O Donnell.
What has been Donegal's proudest moment in recent years?
Winning the Ulster Championship 2011.
What was Donegal's saddest moment?
The day mum died.
What is your favourite Donegal-made product?
Highland Bakery potato bread.
Who is Donegal's greatest ambassador around the world and why?
Anthony Arthurs, no matter where he goes, he always brings a smile to everyone's faces.
Who is Donegal's most successful businessperson in your opinion?
Jerry McCarter.
Who is your favourite Donegal sportsperson of all time?
Daniel McDaid.
What is your favourite Donegal restaurant?
Yellow Pepper.
Donegal's golden eagles or basking sharks?
Golden eagles.
Your nomination for Donegal's most stylish person?
Brian McBearty.
What is your favourite Donegal saying or expression?
"How's she cutting?"
Tags: