After back to back defeats against the top two in recent weeks, Peter Hutton will be hoping his side can beat Mervue United who currently sit behind them when the two meet at Finn Park on Saturday night (kick-off 7.45pm).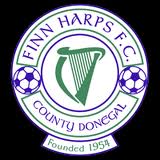 Two weeks ago, Harps lost 3-1 to leaders Longford Town at Finn Park and followed it up with a 3-0 defeat to second placed Limerick last weekend.
Going into this week's game, Harps Manager Peter Hutton has urged his players to remained disciplined after watching his side receive a fourth red card in nine games during last week's game against Limerick.
"We definitely could've done without it", said Hutton of Thomas McBride's red card in Limerick. "Our discipline, in general, has to improve. The amount of yellow cards we're picking up is just not good enough.
"You don't mind if someone gets booked for a tackle but to get booked for dissent is not acceptable. We don't need it, given the small squad we have and the amount of injuries we've had to contend with this season."
Harps have a decent record against Mervue at Finn Park, having beaten them in four of the five meetings between the two sides at home.
"We beat them up here the last time we played them at Finn Park", said Hutton, "but obviously they beat us fairly comprehensively down at their place, which was actually their first win of the season. We were just very complacent and it was a case of men against boys."
"We'll be expecting another tough game on Saturday. They'll be smarting from last week's game having conceded a goal right at the end to lose against Longford. But we just have to concentrate on our own game and what we can bring to the table. We're well capable of beating Mervue at home if we play to our best."
Harps will have new signings Mark Scoltock and Michael Funston available for the first time on Saturday, and both are expected to slot straight into the starting eleven. Thomas McBride is suspended.
The previous two meetings between the sides this season have resulted in a victory apiece on home soil. Last March, Harps won by the odd goal in seven at Finn Park, while the most recent meeting finished in a 3-0 victory for Mervue at Fahy's Field at the end of April.
~~~~~~~~~~~~~~~~~~~~~~~~~~~~~~~~~~~~~~~~~~~~~~~~~~~~~~~~~~~~~~~
TEAM NEWS
Suspended: Thomas McBride
Doubtful: None.
Injured: Stephen O'Donnell (cruciate), Hugh Carlin (cruciate), Blain Curtis (cruciate).
Form Guide (last six league games)
Finn Harps: L-L-L-W-L-L (3 pts)
Mervue United: L-L-W-L-L-L (3 pts)
~~~~~~~~~~~~~~~~~~~~~~~~~~~~~~~~~~~~~~~~~~~~~~~~~~~~~~~~~~~~~~~
Previous home games against Mervue United
05/06/2009 – Finn Harps 2-0 Mervue United (First Division)
07/05/2010 – Finn Harps 2-3 Mervue United (First Division)
30/10/2010 – Finn Harps 4-0 Mervue United (First Division)
06/08/2011 – Finn Harps 2-0 Mervue United (First Division)
10/03/2012 – Finn Harps 4-3 Mervue United (First Division)
~~~~~~~~~~~~~~~~~~~~~~~~~~~~~~~~~~~~~~~~~~~~~~~~~~~~~~~~~~~~~~~
Finn Harps Goalscorers 2012
Kevin McHugh – 5 (1 in League Cup)
Adam Clarke – 4
Thomas McBride – 3
Blain Curtis – 2
Ciaran Coll – 2
Paul Simon Tracey – 2
Thomas McMonagle – 1
Thomas Bonner – 1
Matt Harkin – 1
~~~~~~~~~~~~~~~~~~~~~~~~~~~~~~~~~~~~~~~~~~~~~~~~~~~~~~~~~~~~~~~
Finn Harps Results 2012 (Harps goalscorers in brackets)
29/06/2012 – (FD) Limerick 3-0 Finn Harps
22/06/2012 – (FD) Finn Harps 1-3 Longford Town (Harkin)
30/05/2012 – (FD) Salthill Devon 1-5 Finn Harps (Bonner, McBride 2, Coll 2)
23/05/2012 – (FC) Derry City 4-0 Finn Harps
18/05/2012 – (FD) Finn Harps 0-1 Waterford United
11/05/2012 – (FD) Wexford Youths 3-0 Finn Harps
05/05/2012 – (FD) Finn Harps 1-2 Athlone Town (McHugh)
27/04/2012 – (FD) Mervue United 3-0 Finn Harps
21/04/2012 – (FD) Finn Harps 1-3 Limerick (Clarke)
14/04/2012 – (FD) Longford Town 1-3 Finn Harps (Tracey, McBride, Curtis)
09/04/2012 – (LC) Derry City 4-0 Finn Harps
06/04/2012 – (FD) Finn Harps 3-0 Salthill Devon (Clarke, McHugh, Curtis)
31/03/2012 – (FD) Waterford United 0-2 Finn Harps (Tracey, Waterford o.g.)
26/03/2012 – (LC) Finn Harps 2-0 Mayo League (Mayo o.g., McHugh)
24/03/2012 – (FD) Finn Harps 0-1 Wexford Youths
16/03/2012 – (FD) Athlone Town 2-0 Finn Harps
10/03/2012 – (FD) Finn Harps 4-3 Mervue United (Clarke, McHugh 2, McMonagle)
02/03/2012 – (FD) Limerick 2-1 Finn Harps (Clarke)
FD = First Division; LC = League Cup; FC = FAI Cup
Tags: