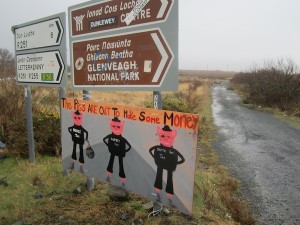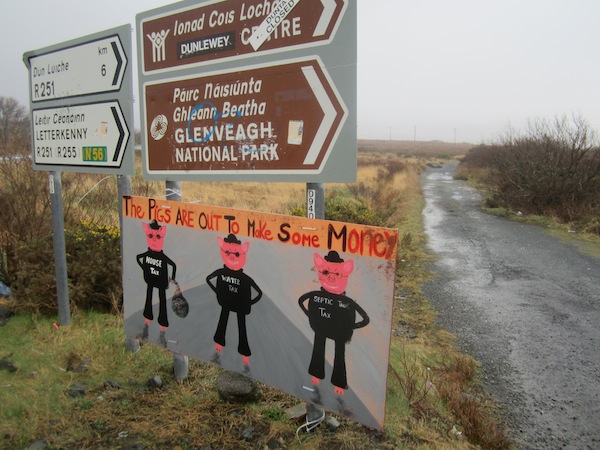 A NUMBER of people in the county who paid their household tax have received warning letters from Donegal County Council – accusing them of failing to pay!
Several homeowners in the county have told donegaldaily.com that they received letters saying they hadn't paid to €100 tax – even though they did.
Campaign groups also claim to have spoken to other people who have been hit with the charge plus penalties even though they paid before the deadline.
They are now planning more public meetings in opposition to the charge.
As the first reminder letters on the Household Charge arrive through post-boxes in the county, the Can't Pay, Won't Pay campaign has today derided Donegal County Council's attempt to pursue non-payers as 'chaotic' and 'error-strewn'.
"After much fanfare about these letters and how there was no hiding place, the main question people have been asking is 'Where are these letters?' as only a small minority have received them so far." said spokesperson Michéal Cholm Mac Giolla Easbuig.
"And now we are hearing reports of people who paid the charge but still got letters. Independent County Councillor John Campbell  has confirmed that one woman who had paid was very upset when she contacted him having received a warning letter about not paying.
"This charge has been a disaster from start to finish. Just like the fiasco with the information leaflet earlier in the year, this letter campaign looks like it will be chaotic and error-strewn. This is a badly-conceived, unfair charge which has been poorly implemented. The only thing left for the government to do is to kill it off as so many have not and will not pay it anyway.
"Our advice to anyone who gets one of the letters, is not to panic – 'Ignore it. Bin it'. Under no circumstances contact the council. Instead contact our campaign and join us. Remember you are one of 50,000 homeowners in Donegal who have not paid. Together we will defeat the Household Charge."
The Can't Pay, Won't Pay campaign is now stepping up it's activity in the coming weeks with information stalls outside post offices and in the centre of towns across the county to reassure those that have received reminders and inform the public of what is happening with the campaign.
A public meeting is planned for Donegal Town on Tuesday 24th and will be the first of a series across the county.
Tags: