A man who smashed a wine bottle over the head of another man until it broke and then stabbed his victim with it has been jailed for two years.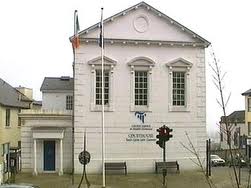 Enda McLaughlin attacked his defenceless victim during a house party at a chalet in Moneymore, Ballintra.
After carrying out the brutal attack, McLaughlin then refused to allow other party-goers out of the house as his victim bled heavily after passing out.
The Gardai were only called when one young woman made a phonecall from the toilet.
Garda Tony Cornyn to Letterkenny Circuit Court that when he called to the chalet at Moneymore it was covered in blood.
"It looked somebody had sprayed blood from an aerosol can because it came out that quick.
"It was all over the walls and the furniture," he said.
When he spoke to people in the chalet, he was told McLaughlin was in the bedroom.
When McLaughlin emerged he claimed he knew nothing about the assault.
However there was blood on his shoes and his trousers which forensic tests later found belonged to the victim.
The victim said he was simply reaching across for a drink when he felt himself being stabbed in the back of the hand and he then passed out to find himself in Sligo General Hospital when he awoke
McLaughlin of Carrowmore, Carndonagh, had up to 30 previous convictions, many for assault.
He told the court that almost all his previous convictions were as a result of his addiction to alcohol.
However, McLaughlin said he was now off alcohol and attending AA.
He pleaded with Judge John O'Hagan to give him one more chance and guaranteed he would not come back before the courts.
Judge John O'Hagan said people have to take responsibilities for their actions.
"People who produce or create weapons must take responsibility for natural and probable consequences of their actions – drink or no drink.
"I have no option but to jail you," he said.
Tags: