Finn Harps can move above opponents Wexford Youths to fifth place in the First Division table with a victory in Saturday night's Finn Park encounter (kick-off 7.45pm).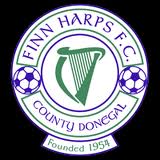 With the FAI's Festival of Football taking place in the county all week prior to this game, Harps will be hoping to end the festivities in Donegal with three points on Saturday evening.
Harps go into the game unbeaten in their last two games having beaten Mervue United at Finn Park a fortnight ago and followed it up with a 1-1 draw in Athlone last weekend.
"We'd probably have taken a point last week because we'd lost our previous two games against them and we know they're a decent side," was Harps boss Peter Hutton's view in the aftermath of the trip to the midlands. "Plus, we didn't play anywhere near what we're capable of so to get a point was good."
Harps gave 'debuts' to two returning players – Michael Funston and Mark Scoltock – however the night ended early for Funston as he limped off with a knock to the ankle.
"I thought the boys who came in did well," said Hutton of Funston and Scoltock. "It takes time for players to bed into a new system and although they have been training with the lads for the past few weeks it's a slightly different story taking that out onto the pitch."
"It could be a couple of weeks yet before Michael can play again," said Hutton. "He went over on his ankle and although it's not as bad as first feared we have to make sure he recovers fully before being thrown back in. The ligament's a bit tender so we'll just see how it progresses but I'd imagine he'll be out for this week's game and possibly the one after as well."
Harps face a Wexford side on Saturday who they have lost to on each of the two occasions they have met this season. The Youths won 1-0 at Finn Park in March in a game where Harps should have taken something from the game, but were well beaten 3-0 in Ferrycarrig Park in May when Harps had two players sent-off. However, Wexford haven't won since that May game, picking up just two points from their last six games.
"They're a decent side and like to play football, which should suit us," said Hutton. We'd far rather play against a side who likes to get the ball on the deck because that's the type of play that we thrive better on."
"They have obviously beaten us twice already this season so hopefully we can put an end to that run of form against them. When we played them down there we had no luck with the two boys getting sent off."
Harps will again have to plan without the suspended Thomas McBride while Michael Funston is also out. James Doherty is a doubt, having picked up a knock in a midweek friendly against an Irish Army XI which Harps won 5-1.
~~~~~~~~~~~~~~~~~~~~~~~~~~~~~~~~~~~~~~~~~~~~~~~~~~~~~~~~~~~~~~~
TEAM NEWS
Suspended: Thomas McBride (3rd of 7 games)
Doubtful: James Doherty (ankle).
Injured: Michael Funston (ankle), Stephen O'Donnell (cruciate), Hugh Carlin (cruciate), Blain Curtis (cruciate).
Form Guide (last six league games)
Finn Harps: L-W-L-L-W-D (7 pts)
Wexford Youths: L-L-L-L-D-D (2 pts)
~~~~~~~~~~~~~~~~~~~~~~~~~~~~~~~~~~~~~~~~~~~~~~~~~~~~~~~~~~~~~~~
Last six home games against Wexford Youths
25/07/2009 – Finn Harps 0-2 Wexford Youths (First Division)
09/04/2010 – Finn Harps 2-1 Wexford Youths (First Division)
24/09/2010 – Finn Harps 1-1 Wexford Youths (First Division)
06/05/2011 – Finn Harps 0-1 Wexford Youths (First Division)
22/10/2011 – Finn Harps 4-1 Wexford Youths (First Division)
24/03/2012 – Finn Harps 0-1 Wexford Youths (First Division)
~~~~~~~~~~~~~~~~~~~~~~~~~~~~~~~~~~~~~~~~~~~~~~~~~~~~~~~~~~~~~~~
Finn Harps Goalscorers 2012
Kevin McHugh – 6 (1 in League Cup)
Adam Clarke – 4
Thomas McBride – 3
Paul McVeigh – 2
Blain Curtis – 2
Ciaran Coll – 2
Paul Simon Tracey – 2
Thomas McMonagle – 1
Thomas Bonner – 1
Matt Harkin – 1
Aaron O'Hagan – 1
~~~~~~~~~~~~~~~~~~~~~~~~~~~~~~~~~~~~~~~~~~~~~~~~~~~~~~~~~~~~~~~
Finn Harps Results 2012 (Harps goalscorers in brackets)
13/07/2012 – (FD) Athlone Town 1-1 Finn Harps (O'Hagan)
07/07/2012 – (FD) Finn Harps 3-2 Mervue United (McHugh, McVeigh 2)
29/06/2012 – (FD) Limerick 3-0 Finn Harps
22/06/2012 – (FD) Finn Harps 1-3 Longford Town (Harkin)
30/05/2012 – (FD) Salthill Devon 1-5 Finn Harps (Bonner, McBride 2, Coll 2)
23/05/2012 – (FC) Derry City 4-0 Finn Harps
18/05/2012 – (FD) Finn Harps 0-1 Waterford United
11/05/2012 – (FD) Wexford Youths 3-0 Finn Harps
05/05/2012 – (FD) Finn Harps 1-2 Athlone Town (McHugh)
27/04/2012 – (FD) Mervue United 3-0 Finn Harps
21/04/2012 – (FD) Finn Harps 1-3 Limerick (Clarke)
14/04/2012 – (FD) Longford Town 1-3 Finn Harps (Tracey, McBride, Curtis)
09/04/2012 – (LC) Derry City 4-0 Finn Harps
06/04/2012 – (FD) Finn Harps 3-0 Salthill Devon (Clarke, McHugh, Curtis)
31/03/2012 – (FD) Waterford United 0-2 Finn Harps (Tracey, Waterford o.g.)
26/03/2012 – (LC) Finn Harps 2-0 Mayo League (Mayo o.g., McHugh)
24/03/2012 – (FD) Finn Harps 0-1 Wexford Youths
16/03/2012 – (FD) Athlone Town 2-0 Finn Harps
10/03/2012 – (FD) Finn Harps 4-3 Mervue United (Clarke, McHugh 2, McMonagle)
02/03/2012 – (FD) Limerick 2-1 Finn Harps (Clarke)
Tags: