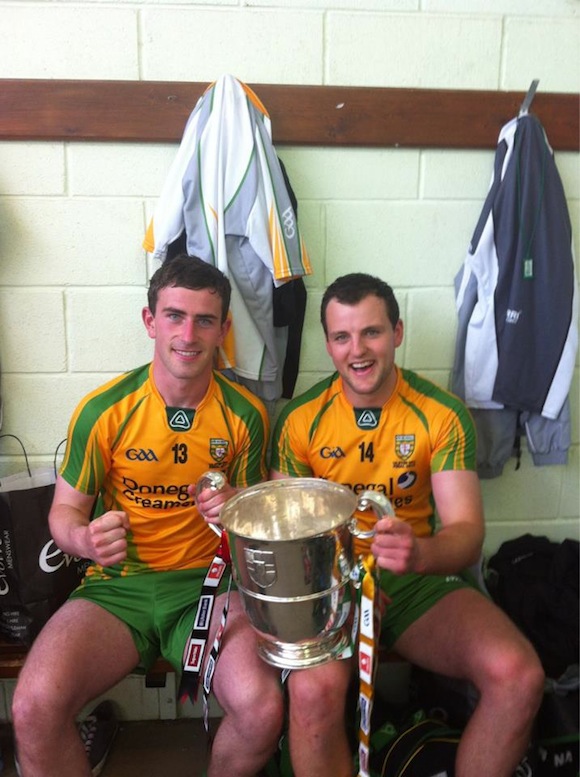 FROM DONEGALDAILY.COM STAFF STILL IN CLONES! DONEGAL 2-18, DOWN 0-13. Donegal are Ulster champions 2012 – retaining our title for the first time ever.
Down led 0-4 to 0-2 after 25 minutes but Leo McLoone's superb goal helped Donegal men to a 1-5 to 0-7 at half-time.
There's no doubt that Donegal fans were nervous during the break.
But for those of us who were, we needn't have worried as Donegal came out in the second half to dominate.
Frank McGlynn's brilliantly take 50th-minute goal soon settled nervs and extended their lead to six points.
Down were now struggling to keep up with the fitter and more determined Donegal side, with players refusing to be intimidated by some unsavoury Down behaviour off the ball.
Colm McFadden was immense – top-scoring with six points, all of them lovely finishes.
Man of the match though was Mark McHugh who had a fantastic game for Donegal today.
The strong-running McGlynn also had a superb game for the holders.
The win puts Donegal in the All-Ireland quarter-finals while Down must regroup for next weekend's four-round qualifier against Tipperary.
The result probably flattered Donegal in the end – a fact acknowledged by captain Michael Murphy.
DONEGAL 2-18
[McLoone 1-0, McGlynn 1-0, Bradley 0-1, McBrearty 0-1, Declan Walsh 0-2, David Walsh 0-1, McFadden 0-6, Murphy 0-1, McHugh 0-2, McElhinney 0-2, Bradley 0-1, McLaughlin 0-1]
DOWN 0-13
[Doyle 0-4, O'Hare 0-2, Rogers 0-1, McKernan 0-1, Laverty 0-1, McCartan 0-1, Hughes 0-1, Maginn 0-1, Brannigan 0-1]
Donegal: P Durcan, P McGrath, N McGee, F McGlynn, Declan Walsh, K Lacey, A Thompson, R Bradley, R Kavanagh, David Walsh, L McLoone, M McHugh, P McBrearty, M Murphy, C McFadden.
Subs: M McElhinney for David Walsh, C Toye for McLoone, D McLaughlin for Bradley
Down: B McVeigh, D McCartan, D Gordon, D O'Hagan, A Brannigan, B McArdle, A Carr, A Rogers, K King, D O'Hare, K McKernan, L Doyle, M Poland, B Coulter, C Laverty.
Subs: E McCartan for Coulter, C Maginn for Carr, D Hughes for O'Hare, Coulter for McKernan
Referee: J McQuillan (Cavan)