The Minister for the Environment Phil Hogan will be met by angry protestors when he arrives to address the MacGill Summer School in Glenties tomorrow.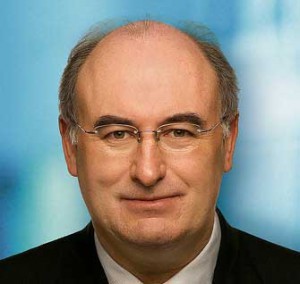 The Donegal campaign group 'Can't Pay Won't Pay' which was set up to oppose the introduction of household, water and septic tank charges is to hold the protest outside the Highlands Hotel.
Speaking ahead of the protest, spokesperson for the campaign group, Micheal Cholm Mac Giolla Easbuig, said it was a perfect opportunity for the people of Donegal to express their anger and opposition about the charges the government has and plans to implement.
"Phil Hogan is the head of a department which is being used by the coalition government to gleem money from the ordinary people of Ireland so they can pay back the likes of the IMF and faceless bondholders after they have bailed out broken banks and a corrupt elite" he said.
"Phil Hogan is now using his position to blackmail our council into scaring the people of Donegal so they will pay money to cover the mistakes of this corrupt elite. This protest is the perfect chance for the people of County Donegal to let Phil Hogan know they will not be intimidated into paying these ridiculous charges," he said.
He added there is plenty of money in this country with more than a third of the nations wealth being held by only one percent of ths population.
"It is time the likes of Phil Hogan and the other members of government realise that the people are no longer afraid and will continue to demand a fairer society and the protest in Glenties will be another chance to do just that," he said.
It is not known how many people will take part in the protest.
However extra Gardai are expected to be drafted in as a precaution.
Tags: