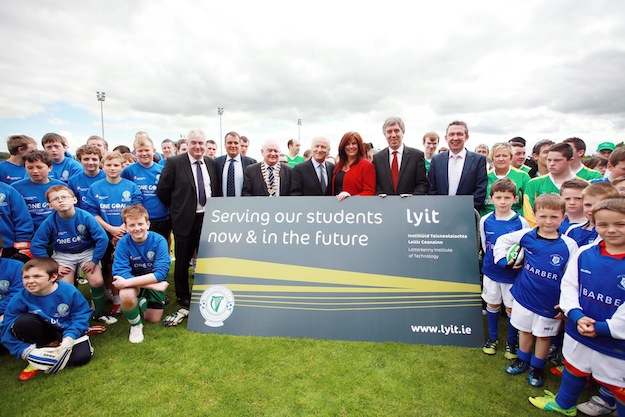 Finn Harps Football Club and Letterkenny Institute of Technology announce the launch of Donegal's first pre-entry soccer scholarship programme.
The programme is aimed at developing footballers for the Harps first team squad, whilst also offering Scholarship recipients the opportunity to pursue a third-level education.
There will be three soccer scholarships available on an annual basis and the successful candidates will train with and play for Finn Harps and also represent the LYIT teams.
Both organisations are also looking forward to exploring further areas of mutual benefit.
Finn Harps Chairman Joey O Leary said, "We are delighted to be working with LYIT to provide those who have displayed exceptional soccer potential with a facility to also pursue their further education.
"The club feels it is important that we can accommodate our young players who would prefer to receive their third level education within the County. This scholarship programme will mean the successful candidates can receive the ongoing coaching which is vital to their development"
Paul Hannigan, President of LYIT, said, "This is an important initiative for LYIT and our continued engagement with the community. We are delighted to be working with Finn Harps and creating opportunities for young footballers to pursue their careers while achieving their academic potential."
James Rodgers, Finn Harps Youth Development Officer, feels the programme will be hugely beneficial to its participants.
"We know from experience that it takes a lot of hard work and dedication for young players to establish themselves in senior football. We feel it's very important that all young athletes become aware of the value of furthering their education."
"Finn Harps scholarship partnership with LYIT is part of the Club's long-term commitment to the development of local talent. The aim is that those participating in the Scholarship programme will emerge with both a valued academic qualification and the possibility of a career in the Airtricity League and beyond," he added.
Minimum academic and sporting criteria expected of applicants and further guidelines will be released on www.finnharps.com on Monday, 30 July.
Applications are available on request from the Clubhouse at Finn Park, Navenny Street, Ballybofey. These should be returned for the attention of the Scholarship Administrator, Denise O'Neill.
Tags: