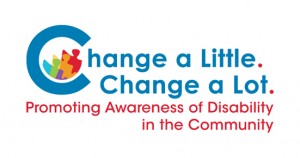 A significant move towards accessibility for all, takes a first step this morning with the official launch of the inaugural Change a Little, Change a Lot Accessibility Awards.
This unique programme, which will culminate in an awards ceremony in May 2013, will see businesses, statutory and non-profit organisations make little changes to their work practices, working environment and customer services so that they can be eligible to apply for the Change a Little, Change a Lot Accessibility Awards.
The results of which will mean that people with a disability can access their services easier, and according to organisers will "give them a competitive edge in the marketplace and encourage more footfall into their companies."
Participating organisations will get free consultation and support along the way from ADAPT NI, a specialist accessibility training company and be awarded formal certification. They will also be profiled in local media for their actions with a free marketing package from Media Box.
This innovative campaign which is being spearheaded by the Community Awareness Programme and jointly supported by Strabane District Council, Donegal County Council, Western Health and Social Care Trust and the Health Service Executive aims to promote accessibility for all in local communities.  Funding for this project has been provided by the European Union's INTERREG IVA programme, secured by Co-operation and Working Together's (CAWT) Citizenship Project.
Denise Curran, Service Manager with the Health Service Executive's Physical and Sensory Disability Services, says the programme is a significant step forward in making the North West more accessible.
"Accessibility is simply good business. Improving accessibility for people with disabilities has a much broader public benefit for the whole community. Our hope is that the North West will be viewed as a region of excellence in terms of accessibility just as Louth is viewed as an age-friendly county.
Garry Hyde, Assistant Director for Physical Disability and Sensory Services in the Western Health & Social Care Trust adds, "this awards programme offers free support, training and expertise in accessibility covering four areas: built environment, awareness and attitudes, access to information and communication. It is open to businesses, non-profit, community & voluntary organisations and statutory organisations in the border region of Donegal and Strabane".
Commenting, Edel O'Doherty, Deputy Chief Officer of CAWT says, "This programme is a great example of the practical impact that European Union funding can make at a local level. CAWT is delighted to have secured this additional funding from the EU's INTERREG IVA programme for the benefit of people, particularly for people with disabilities, living along the border corridor. "
The official launch of Change a Little, Change a Lot Accessibility Awards takes place on Thursday 26th July in the Training Room at Strabane District Council and interested businesses, non-profit organisations and statutory agencies in the North West are invited to attend.
For more information on the Change a Little Change a Lot Accessibility Awards please visit our website
Tags: