Get ready Gooch and co – Donegal's army of fans is on the march.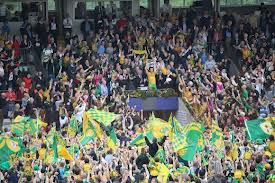 Up to 20,000 supporters are ready to descend on Croke Park today as Jim McGuinness and his team try to keep their All-Ireland dream alive.
For the first time this season, the men from Tir Conaill are underdogs against a strongly-fancied Kerry side.
Few pundits are giving Donegal much of a chance when the ball is thrown in at 4pm.
But that will suit Donegal just fine as they go in search of an upset at GAA headquarters.
No new injuries have been reported by the Ulster champions and it looks like Jim McGuinness has an almost full panel to choose from.
From early morning buses have been leaving Donegal for the trip to the capital.
The fans are putting their reputations on the line and certainly won't be left wanting when it comes to vocal support for their team.
All we need now a super team performance from a panel of players we all know can be All Ireland champions come September.
Come on Donegaaaaaal – we're all behind you!
Tags: