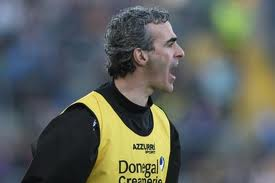 DONEGAL'S GAA county heroes may withdraw from club matches next weekend, sources in the camp have told donegaldaily.com.
Manager Jim McGuinness is refusing to be drawn on the issue.
However it's understood that many of the players want to concentrate on preparing for the All-Ireland semi-final against Cork on August 26th.
And they fear injuries picked up in club games could hamper the county's chances of progressing to our first All-Ireland final in two decades.
"We'll see what the boys' thoughts are on it and what the management's thoughts are on it and we'll take it from there. That's as political a way as I can put it," Jim McGuinness said after the weekend win over Kerry.
A round of already postponed club championship matches have been scheduled for this weekend.
But county PRO Moira Graham says the games – postponed to allow the county team to concentrate on the Ulster final – will go ahead.
"They have already been put off and the agreement was that they would be played hell or high water next weekend," said Graham.
"There would have been a lot of phone calls made after the game against Kerry, but there is no county board meeting planned for this week nor any meeting of the CCC so the games will probably go ahead. Whether the county players are involved in them, I'm not sure."
Sources in the county panel told donegaldaily they believe their clubs will allow them to sit out the matches.
"There's enormous pride at club level in what we have done again this year and most club members can see the big picture and the potential prize at stake," said one source.
"If we can beat Cork and go onto the final it will be a massive boost for gaelic games in Donegal – and the clubs will benefit from that. Imagine losing Mark McHugh or Rory or Colm because they were injured in a club game. It doesn't make sense."