This is the scene as the tide swallows up the materials for singer Daniel O'Donnell's new home on Owey Island.
The pictures were taken just minutes after a lorry carrying materials slipped on the island's pier into the sea.
The incident happened around 3.30pm yesterday and there were no injuries.

Our pictures, snapped by a Donegal Daily reader, were taken just a few minutes after the accident.
An eye-witness said the truck was already off the ferry at the island as the materials were being lifted off it.
However the truck began to slip into the sea.
The ferry operator tried to move the boat towards the truck but this was unsuccessful.
The Arranmore lifeboat had been dispatched to the area.
The Marine Casualty Investigations Board has been notified and will carry out an inquiry.
The lorry was taking materials to the island for a number of people – including the O'Donnells.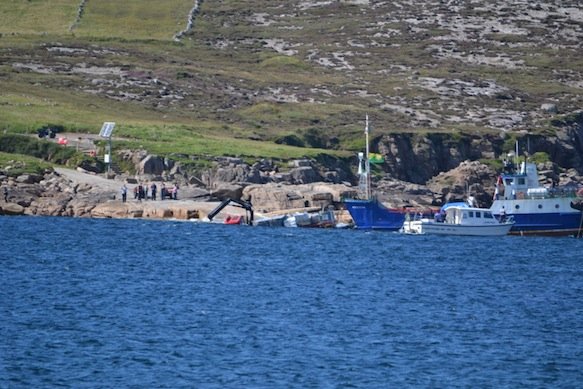 Tags: