With only 2 days to go, preparations are well under way for Letterkenny Live 2012.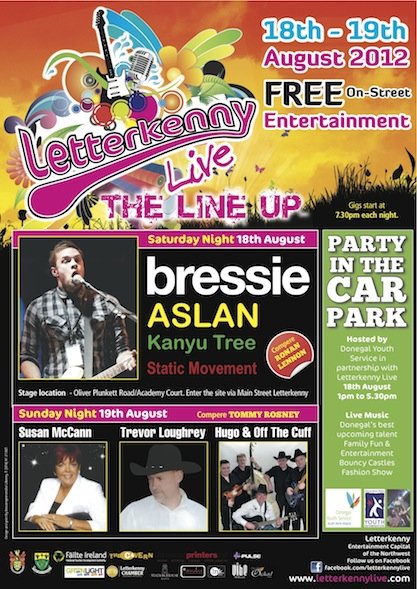 Last year was a great success and this year will be bigger and better with a list of top class acts!
The committee are currently hard at work finalising details to ensure that all will run smoothly over the festival weekend. We have secured a smashing line up for both nights.
The festival gig rig will be located on Oliver Plunkett Road. Both nights kick off at 7.30pm and will finish at 11pm, early enough for families and young people to get home and for others giving plenty of time to visit local pubs and clubs who are already planning festival events for after the show.
On Saturday Night the headline act is bressie well known from The Voice supported by Aslan and The Kanyu Tree. Both are fantastic festival bands that have a wide appeal.
"This year to give it more of a festival feel we've partnered with the Donegal Youth Service who will deliver their annual Party in The Park on Saturday afternoon. This annual event is a real showcase for local young bands and attracts upwards of 1000 young people each year. This year they have re-named it "Party in The Car Park." They will have access to the full set up and we're delighted to be able to add this to our lineup from 1.30pm to 5.30pm.
"Sunday is Country Night with Susan McCann, Hugo and Off the Kuff and Trevor Loughrey. All really popular acts that will create a different type of concert but one we think will be really appealing to a wider audience.
"We are encouraging everyone to come out and support the festival and to tell family and friends who may be planning to visit Letterkenny over the festival weekend, this will definitely be a weekend not to be missed," said Letterkenny Live spokeswoman Siobhan Barrett-Doherty.
For up to date information on the festival follow us on facebook, facebook.com/letterkennylive and on our wesbsite www.letterkennylive.com
This promises to be a great weekend of FREE on street entertainment and we look forward to seeing you all!
Tags: