Finn Harps are to hold an open meeting for all supporters on Monday next, 27th August in Jacksons Hotel to discuss a number of important issues.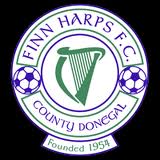 All supporters have ben asked to come to the meeting during which the financial status of the club, the new stadium project and next season's league format will be discussed.
Despite  a relatively poor start to the season which culminated in the departure of Director of Football, Felix Healy, Harps have done well in recent weeks.
They are currently on a seven game unbeaten run and have climbed into fourth place in the league.
The meeting starts at 8.30pm and Harps chairman Joey O'Leary is asking all fans to attend.
"With only six games left in the season and the u19s just starting their campaign, I would be grateful for a large turnout to help the club see out the season.
"We have important issues to discuss including new stadium project, next seasons league format and financial update, so the board and I are looking forward to meeting everyone there."
Tags: