He has the entire county humming a tune that nobody knew a fortnight ago. Kilcar musician Rory 'Jimmy's Winning Matches' Gallagher may live in Lanzarote but he's a huge hit here. Here he reveals what he loves about his home county.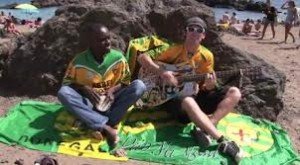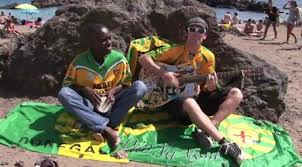 What is your favourite place in Donegal and why?
Kilcar, it is my home town, growing up there was a pleasure, mighty craic. I actually can't remember being bored at any stage.
If you could change one thing about Donegal what would it be?
Some of the bumps on the Pettigo Road used to break my heart (and my springs!). I would make that a bit smoother.
Who is the one person in Donegal that you look up to and why?
I look up to many people in Donegal, I'm only 5 ' 9.
Daniel O'Donnell or Packie Bonner?
Packie Bonner, anyone who knows me knows I'm a massive soccer fan and I grew up with Italia 90 and all that stuff so Packie is a big hero. Sorry Daniel, but you just never played in a world cup!
What has been Donegal's proudest moment in recent years?
Tommy McLoughlin's Production and guitar work on The Villagers 2010 album "Becoming a Jackal" was unreal. It is an album I listen to over and over. In other things Seamie Coleman (Everton) making a fool of both Fabregas and Tevez through tackles and nutmegs in the space of a month back in 2010 was magic, and Donegal having a higher NO vote than the rest of the country against the 4th Reich was quite heartwarming yet still ultimately pointless.
What was Donegal's saddest moment?
I would say it was definately when I moved to Lanzarote in 2007, the whole county was in bits…
What is your favourite Donegal-made product?
McDaid's Football Special
Who is Donegal's greatest ambassador around the world and why?
Frankie Boyle ..why not!
Who is Donegal's most successful businessperson in your opinion?
Either Terance Boyle or Enya
Who is your favourite Donegal sportsperson of all time?
As I said Packie Bonner. Gonna be biased and put Martin McHugh in there as well.
What is your favourite Donegal restaurant?
Whichever one e-mails me on facebook and offers me and my wife a free meal first! wink wink!
Donegal's golden eagles or basking sharks?
I fancy the Golden eagles to win by 2 touchdowns as the basking sharks have a weak quarterback.
Your nomination for Donegal's most stylish person?
I once saw an old man outside the post office in Donegal town with a subaru cap, a ripped Duran Duran Jumper on top of a lumberjack shirt, with his extra large Dunnes Stores jeans tucked into his auld wellies, that man was a genius, never got his name.
What is your favourite Donegal saying or expression?
'Way up the side of her!
Will Donegal win the All Ireland this year?
Ah sure why not !
What is your favourite Donegal food?
Fresh mackeral is hard to beat
Is there anything that really annoys you about Donegal or its people?
The culture of "being the big man" by driving really fast when you are young is crazy. I drove too fast when I was young, lucky I didn't  kill some-one, people from other counties always comment on it. It is embarrassing, dangerous, selfish and pointless… if you want to rally …enter a rally!
If you had a million euro to spend on improving something in Donegal, what would it be?
An extension on the airport to cater for direct flights to Lanzarote of course! Being serious i have heard horror stories of the lack of funding in health-care so it would go into that.
Tags: