A surprising figure ran the line at a minor game in Glenswilly last week.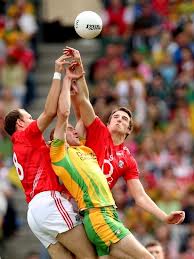 Flag in hand, you had to look twice to see if it was actually Neil Gallagher.
Others might have been taking calls from the media or wondering what they would wear when they left Croke Park.
Such sideshows don't float around Neil Gallagher's world.
Life is simple. You work and you play football.
Yesterday he picked up the Man of the Match Award after a towering display in the middle of the park.
He was almost embarrassed to get the award on RTE.
The county council employee prefers to let his football do the talking.
But credit where credit is due.
Neil has been threatening to put in a huge display for Donegal over the last couple of seasons.
They have always been solid but yesterday he literally rose head and shoulders above everyone else – including the three different midfield combinations Cork tried to use.
Gallagher doesn't do hair gel, the latest fashionable football boots or fancy footwork for that matter.
He's a workhorse with the heart of a stallion.
But yesterday the most unlikely of heroes of the Donegal team showed some thoroughbred breeding.
We salute you Neil for dragging us across the semi-final line to our All Ireland final destiny.
Tags: