It's not just Ireland which has sat up and taken notice of Jim McGuinness and his amazing side.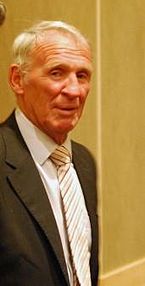 Now Manchester United fans around the globe know of the master tactician and his panel of 'never say die' players.
The Donegal team and their Croke Park heroics were name-checked on several occasions last night on the Red Devils' own television channel MUTV.
The man doing giving all the praise was none less than Utd legend and honourary Donegal man Paddy Crerand.
Paddy, who played for both United and Celtic during a distinguished career, is the son of Sarah 'Tim' Boyle from Goath Dobhair.
Paddy spend much of his childhood in West Donegal and often returns to the area.
Last night he had United fans around the world checking out the GAA and especially this wonder boy and his team who have turned the game on its head.
Tags: