The Donegal GAA team's adopted musical mascot's hopes of playing Croke Park has been scuppered – by his musical sidekick.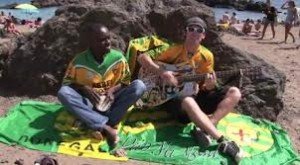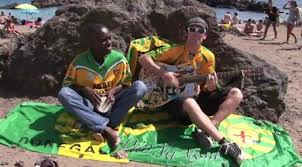 Rory Gallagher, whose song 'Jimmy's Winning Matches' has become a huge hit, was hoping to bring his musical partner Senegal Jimmy back from his Lanzarote base for the All-Ireland Final.
The song is number 12 in the iTunes charts and has now been viewed more than 200,000 times on You Tube, was played at Croke Park when Donegal beat Cork last Sunday.
But rocker Rory said "I can't find him and he won't return my calls. It's all gotten too big for him.
"I'm trying to get him to Croke Park with me and play some gigs in the run-up to the final but he obviously has cold feet.
"The 'Jimmy's Winning Matches mania has grown too big for him. He freaks out when he plays to more than 30 people and not he realises how big this thing has become," said Rory.
And the Kilcar musician says that if he doesn't get to play Croker, then he might not see his heroes because he hasn't got a ticket.
"I have already made lots of calls but it's not looking good. Donegal fans could fill Croke Park themselves. It's going to be mental trying to get a ticket," he said.
Indeed the hunt for the golden tickets has already reached fever pitch in Donegal – even before they are printed and before Donegal know if they are playing Mayo or Dublin.
GAA County Board Secretary Hugh Martin Martin says Donegal should get an allocation of around 13,000 tickets despite the fact that there was 30,000 Donegal fans at Croke Park for last Sunday's semi-final.
"It is going to be a major problem and we are advising fans to try all their contacts as well.
"A certain allocation will go to club members but there is obviously going to be a shortfall locally.
"If people have contacts throughout the country then we are advising them to explore all those avenues," he said.
Tags: