A gang stealing copper wire from telephone lines have struck four times in the past week.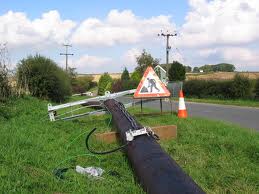 The gang stole an estimated 600 metres of valuable wire in raids on a number of places across the Fanad Peninsula including Tamney.
And according to today's Tirconaill Tribune newspaper, the gang are using improved methods to strip the wire out of the lines, leaving cheaper metal and rubber behind.
The latest raids bring to ten the number of similar robberies in the area this year.
It is estimated the copper is fetching an average of €10 per metre on the black market meaning their haul this week was worth more than €6,000.
Tribune editor John McAteer says there is now a real sense of fear amongst the local community that people are being left isolated for periods of time after telephone wires are stolen.
"There is poor mobile phone service in a lot of this area and once landlines are cut people are being left cut off.
"There is a genuine fear there amongst people and I can completely understand that," he said.
Tags: