The Mayor of Letterkenny says he would like to see the Donegal GAA team do a tour of the county when they return from the All Ireland Final.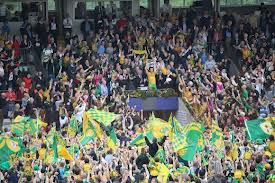 Cllr Dessie Larkin was speaking after controversy erupted over the team's homecoming celebrations in three weeks time.
It was sparked after Letterkenny Chamber President John Watson said he would like to see the team return to Letterkenny instead of the traditional calvacade to Donegal Town.
Cllr Larkin told Donegal Daily that he thought no one town should have a monopoly on celebrations.
"In my opinion many towns have a right to have the team in their town and hopefully it will be with the Sam Maguire Cup.
"Lifford should celebrate because it is the county town, Letterkenny is the biggest town, Donegal because of tradition and somewhere in Inishowen because it covers such a large area.
"The one thing these celebrations should not be in divisive.
"That is why I think we should consider asking the team and the county board to arrange a tour of Donegal on the day they return here," he said.
Cllr Larkin said he understood the claim being made by Letterkenny Chamber President John Watson whom he said was acting in the best interest of the town he represented.
He added the most important thing is that the entire county gets behind Jim McGuinness and his players in the coming weeks.
He added that knowing the Donegal players, they would go out of their way to accommodate as many people as they could.
"My father was chairman of Letterkenny Urban Council in 1992 and he held a civic reception for the team then.
"I would dearly love to be able to welcome them to Letterkenny with Sam 20 years later," he said.