Former Tanaiste Mary Coughlan wept today as the tricolour from her husband's coffin was presented to her.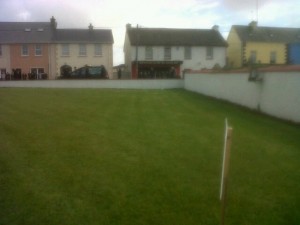 Garda David Charlton, 48, passed away at the weekend after a battle with cancer.
He was given a full Garda escort to his funeral mass at St Mary's Church in Frosses (pictured right), the coffin followed by Ms Coughlan and their two children, Cathal, 15, and Meave, 13.
Former Taoisigh Bertie Ahern and Brian Cowen were among a host of former cabinet ministers at the funeral including FF leader Micheal Martin and Eamon O Cuiv.
The North's deputy first Minister Martin McGuinness was also at the Mass, as were representatives of the President and the Taoiseach. Mr Kenny had visited the wake at the family home on Monday night.
As the coffin of Gda Charlton was carried into the chapel by colleagues at Glenties Garda Station, Garda Commissioner Martin Callinan presented the tricolour to Ms Coughlan.
Parish priest Father John McLoone told mourners that Gda Charlton, a native of Mayo, had been looking forward to Sunday's TV coverage of the All-Ireland semi-final.
He said David had no fear of dying and had a strong belief.
Fr McLoone said he had planned to join David at home for the Mayo and Dublin game but sadly passed away the night before.
"I know he had a good seat for the All Ireland semi-final," he said.
Tags: