Letterkenny Chamber has apologised to GAA fans after the fall-out from their request that the Donegal GAA team have their homecoming in Letterkenny.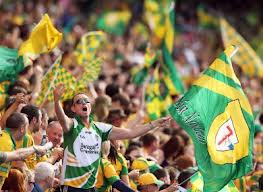 In a statement issued to Donegal Daily, the chamber said it was never their intention to create any controversy or division.
Chamber President John Watson caused huge debate when he said it was time Letterkenny shared in the homecoming of the Donegal team instead of the traditional Donegal Town.
The statement caused a huge outpouring of debate form across the county with manager Jim McGuinness saying now was not the time for such calls.
This morning Letterkenny Chamber said "Letterkenny Chamber wishes to state unequivocally that it was never our intention to create any controversy or division around the matter of the homecoming for the Donegal GAA team.
"We regret that there has been such a negative reaction to our understandable wish to share in the achievements of the team but feel that the most important thing at this time is for the people of Donegal to pull together behind our team.
"On behalf of local businesses in the town and all the people behind them, we will do our utmost to ensure that this is the case. We wish the team every success on Sunday 23rd!"
Tags: