It may still be almost FOUR months to Christmas but one Donegal supermarket has Christmas goods on its shelves.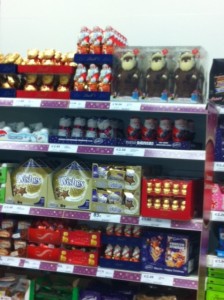 Shoppers at Tesco in Letterkenny had to do a double-take as staff stocked the shelves with selection boxes and chocolate santas.
The kids are only days back in school, Halloween has yet to arrive but that hasn't stopped store bosses from bringing in supplies of Christmas goodies.
One shopper laughed "I actually passed them by but I met a friend and she told me. I had to go back and see it for myself. I was shocked.
"They're only short of bringing in the Christmas trees. It's getting earlier and earlier every year. They would need to give it a rest."
And for the record – there's still 108 days to Christmas Day! Happy Christmas everyone.
Tags: