Are Leaders born or made?
This is just one of the questions to be posed at the event "In Conversation with Sir Gerry Robinson" that is taking place takes place on 18th September in the Radisson Blu Hotel at 7pm.
Gerry Robinson is a native of Donegal and lives in Raphoe but he has spent the majority of his career working in the UK, turning round major organisations.
While he is well known here for his beautiful gardens at Oakfield Park he has gained public recognition for his TV programmes that saw him working with small businesses, encouraging families to work on their inheritance issues and he even tried to sort out the NHS. It is this wide ranging experience that sets him apart, that gives him the breadth of knowledge across very different sectors.
John Watson from Letterkenny Chamber says "I watched a talk he did previously and even in the few minutes I picked up tips that I could apply immediately. He seems to apply just the right amount of common sense at the right time and is an inspirational and motivational leader.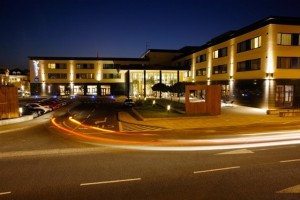 "I believe this event will inspire all those who attend whether they are managers, business owners or employees. Gerry seems to use down to earth language and is a great communicator. We have been trying for a while to persuade Gerry to speak for us so we are very much looking forward to this event. "
Gerry will be interviewed by Donegal native Katriona McFadden. Katriona hails from Milford, Since graduating in Journalism she immediately started work as a reporter with the current-affairs show Five Seven Live on RTÉ Radio One and has since worked in a variety of jobs in RTÉ including as a reporter on The Tubridy Show, The Business with John Murray, Drivetime Sport with Des Cahill and Drivetime with Mary Wilson.
She has made several RTÉ radio documentaries including The East Link (about EU accession) and Five Days in Tallinn.In 2006 she co-presented an RTE1 television series, Community Challenge and has worked as a contributor for RTE1's The Afternoon Show.
She is currently working as a features reporter on Mooney and Mooney Goes Wild with Derek Mooney on RTÉ Radio One. This year she was lucky enough to get to go to Azerbaijan to cover the Eurovision Song Contest!
Katriona will be asking Gerry questions on themes chosen by those attending making it an interactive and engaging event covering everything from his own personal experience to management of large organisations.
This is a rare opportunity to hear from Gerry Robinson. The event costs just €20 per person. It is booking up fast so to avoid disappointment get in contact as soon as possible with Letterkenny Chamber on 074 9124866 or email toni@letterkennychamber.com
Tags: