A Donegal truck company boss has warned other drivers to be vigilant after €1,500 worth of diesel was syphoned out of one of his trucks while the driver slept.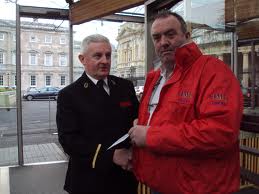 Haulage company boss John McLaughlin of JML Transport in Convoy said gangs of fuel thieves are now targeting trucks both in Ireland and England.
Mr McLaughlin's truck was emptied of almost 1,200 litres of fuel in just seven minutes as the driver slept in a lay-by in Derbyshire in England last week.
The trucking boss has an anti-theft device which alerts his phone went fuel is being emptied out of any of his vehicles very quickly.
But unfortunately for Mr McLaughlin he was at a wake and his phone was on silent.
"I got the calls but never heard my phone. My driver was sleeping and didn't hear a sound.
"That is how professional these gangs are. They are roaming both Ireland and England and making a fortune out of it.
"I was able to tell from my anti-syphoning monitor that it took these guys just seven minutes to empty my tank.
"Because of the increasing price of fuel, this kind of thing is big business now.
"If they hit a few trucks in a night with a store tanker then they could easily clear up to €10,000 a night," he claimed.
Mr McLaughlin, who is well-known in Irish trucking circles, also revealed that Irish drivers are being gassed in their cabs while abroad.
"Gassing is becoming more and more common. The drivers wake up with headaches and the next thing they know is that their load has been stolen.
"Thankfully that hasn't happened to me but I have spoken to two drivers who it has happened to," he said.
And the Donegal businessman said he calculates that the situation is only going to get worse predicting that diesel will push up to €2 a litre before Christmas.
"If it's lucrative for gangs to do this now, you can imagine the profit then.
"Many people have stopped driving altogether but people in the haulage industry have to keep driving to try and make a living.
"It's going to get to the stage that it simply won't be worth it," he said.
Tags: