The Alan Kelly Gang have teamed up with Scotland's internationally acclaimed and mesmerizing songstress, Eddi Reader, (of Fairground Attraction fame) and Trashcan Sinatra's guitarist and songwriter, John Douglas for a concert at An Grianan Theatre on Saturday 22nd September.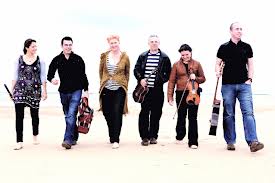 And Donegal Daily has a pair of FREE tickets to see the show (see bottom of article for simple details.)
The show is an unmissable experience, brimming with powerful instrumentals, alluring songs and magnetic harmonies.
Scotland's The Living Tradition magazine has described it as 'an astonishing concert'. Since 2005 Alan has toured the world as part of the Eddi Reader Band and recorded on her last four albums.
His friendship with Eddi first resulted in a beautiful collaboration on a song penned by John Douglas. The collaborative work 'I Hung My Harp Upon The Willows' appears on Alan's 2009 album,After The Morning, which was named as one of the 'top ten musical highs of 2009' by the Irish Times who described it as a "humdinger of a collection".
In 2010, Alan and Eddi joined forces for three Irish festivals, The Cork Folk Festival, Sligo Live and The Galway Artsfestival. Each was a huge success, receiving glowing reviews and propelled the collaboration further onwards.
In 2011 the Alan Kelly Gang teamed up with Eddi and John for the beautiful and evocative song, 'Connemara',released on the Alan Kelly Gang's album, Small Towns and Famous Nights.
To book call An Grianan Theatre on 074 91 20777 or go online at angrianan.com
But to win the free tickets just tell us what 'perfect' band Eddi Reader topped the charts with? Email info@donegaldaily.com with your name, phone number and answer and we'll pick your name at random.
Tags: