Ireland's most famous amateur weatherman is to undertake a pilgrimage to a holy Donegal shrine in an effort to get tickets for Sunday's All-Ireland Final.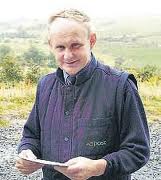 Michael Gallagher and his special-needs daughter Marion, 27, are huge Donegal fans and have been at every championship and league game this season.
But the famous postman says he simply can't get a golden pass for the game at Croke Park.
So tomorrow he is to undertake a 50km cycle from his home in Glenfin to Doon Well, a holy well in Termon.
Michael says he will then say a few prayers in the hope of somehow getting tickets for the crunch game.
"It's my last chance. I'm going to pray for some divine inspiration.
"I'm doing it for Marion. She knows all the players by their first names and follows them everywhere. I'm heartbroken for her," he said.
Now Michael said that even if he doesn't have tickets he will take Marion, who is a trainee at St Bernadette's Training School in Letterkenny, to Croke Park on Sunday to savour the atmosphere.
"We're going to go up anyway and you never know what might happen when we get there. The atmosphere will be great.
"And you never know after our pilgrimage to Doonwell, we might just get lucky," he said.
And the man who many trust to get the weather right also has a prediction for Sunday's game.
"I thought a few days ago that Donegal would beat Mayo by a couple of points but I think after my pilgrimage we can do it by six or seven.
"Sam Maguire is coming home to the hills of Donegal," he said.
Tags: