A huge crowd is expected at the Diamond in Donegal Town tonight for what promises to be one of the greatest nights in Donegal's history.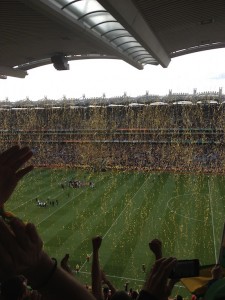 Fans from across the county and many home from the four corners of the globe will welcome home Jim McGuinness and his victorious team.
The team are expected at the Diamond around 8pm but many say this could be much later.
A great line-up of entertainment is planned including Daniel O'Donnell, Margo, Rory Gallagher of 'Jimmy's Winning Matches fame and much more.
Members of the winning team will also be interviewed as part of the celebrations.
The team are gathering in Dublin after last night's glamorous banquet function at Dublin's Burlington Hotel.
The team will leave later today and come back home to Donegal via Pettigo.
Gardai have revealed that the Diamond area and surrounding streets will be closed to traffic from around 4pm onwards to prepare for the huge crowds expected on the streets.
The homecoming to the Diamond is being organised by the local Four Masters club who are co-ordinating parking.
People are being advised that they will have to park outside the town and there will be shuttle buses into the town.
Tags: