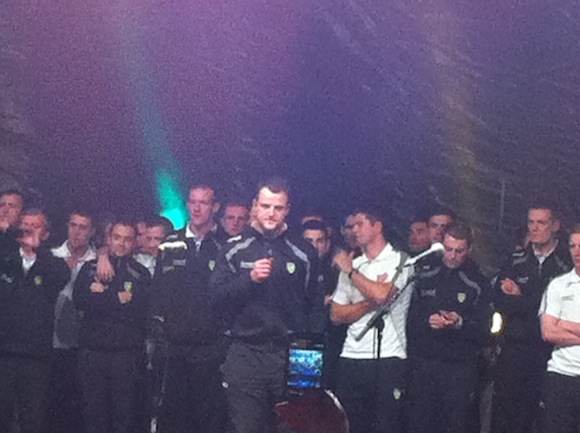 UPDATED: YOU have to salute Jim McGuinness and his players again.
They're determined to make sure each and every fan on every road and byway of this county gets to see the Sam Maguire and savour this wonderful success.
So it was no surprise that Day One of the World Tour of Donegal took a few hours longer than hoped.
And a journey which began this morning in Bundoran ended an incredible 12 hours later on the streets of Letterkenny, four and a half hours after the scheduled arrival.
The humour and good will from the players has been astonishing; stopping to talk to fans, signing autographs and most importantly of all, posing for pictures with the Sam Maguire.
It was a frustrating day too unfortunately; the Glenswilly reception had to be postponed because of the lateness of the hour.
And many younger fans in Ballybofey and Letterkenny couldn't wait any longer and were tucked away in bed.
But there will be other days and nights like this.
Dermot 'Brick' Molloy tweeted on arrival: "Don't worry, I'm on my way to Letterkenny. I'll crack a smile when I'm standing next to you."
Paul Carr from the St Eunan's club and Jim McGlynn from Letterkenny Gaels welcomed the county team to the town.
And Mayor Dessie Larkin joked: "Carlsberg don't do All-Irelands, but McGuinness does."
If the players were tired, they weren't showing it – enjoying every moment.
Manager Jim McGuinness once again paid a warm tribute to all of those who had waited so long to see the team.
And of course Rory Gallagher was there to get the crowd into Jimmy's Winning Matches.