First it was RTE who gave us just a few minutes on the Late Late.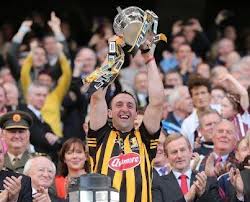 Now the All-Ireland winning hurling champions Kilkenny have tried to hijack our unofficial anthem.
Kilkenny captain Eoin Larkin climbed the steps of Croke Park today after brushing aside Galway in the All-Ireland hurling final replay to heist the Liam McCarthy Cup.
But Larkin shocked fans when he sang a rather strange version of Rory Gallagher's song Jimmy's Winning Matches to the words of 'Cody's Winning Matches' in honour of manager Brian Cody.
Social network sites have been swamped with calls for Larkin to keep his hands off our song.
Now if only Donegal could repeat the dominance Kilkenny has enjoyed over the years!