An injured jogger had to wait 48 minutes to receive a lift to hospital by ambulance despite the hospital being just a kilometre away.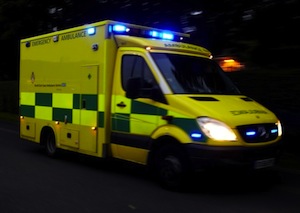 The jogger was hit by an out-of-control car in Letterkenny following a two car collision on the town's Port Road.
Staff at Tobin's Filling Station called the emergency services and were told an ambulance would be there in five minutes.
However the ambulance did not arrive for 48 minutes after it had to come from Carndonagh – more than 60 kilometres away.
It has now transpired that both ambulances at Letterkenny General Hospital were already out on emergency calls.
The ambulances later arrived at the scene of the Letterkenny incident after the third ambulance had taken the man to hospital.
The man was helped at the scene by a member of the public who administered first aid before the ambulance arrived.
The HSE had failed to return calls at the time of going to press last night.
Gardai have confirmed that a full investigation into the circumstances surrounding the crash has been launched.
The jogger has since been released from hospital.
Tags: