A Donegal chef has been chosen from more than 160 chefs across the country to travel to Canada all for the love of food.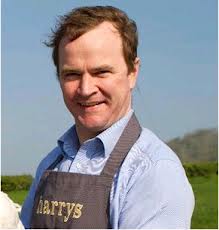 Fourteen of Ireland's top foodies departed from Dublin Airport this week to travel on a food tourism benchmarking trip to Prince Edward County in Canada.
And included in the group was Donal Doherty, Harry's Restaurant, champion of local food in Inishowen.
In 2010 Bridgestone named Harry's as one of the Top 10 Best value Restaurants in Ireland it's well worth checking out why.
Having received a phenomenal response to Fáilte Ireland's quest to find Ireland's food champions, Donal was chosen from an overwhelming 160 nominations.
These food champions were nominated by their peers for their resounding passion and belief in Irish food, together with a commitment and drive to actively influence to shape the future of Irish cuisine and food tourism in their region.
While in Canada the Food Champions will experience a bespoke itinerary developed by renowned food tourism destination expert Rebecca LeHeup who will be their guide throughout the trip. Among the many things the group will see and do, include meeting Vicki, a 9th generation farmer who has built an agri-business with various market outlets.
An open discussion session is planned with the Prince Edward County stakeholders who will talk about developing their businesses, what culinary tourism has meant to them, the challenges they faced, and lessons learned etc.
Fáilte Ireland's Head of Operations, Martina Bromley, wished the group well on their visit to Canada.
"It is our hope that once Donal returns home he will work together with the local Donegal community to help build Ireland's food tourism reputation and encourage visitors to stop, spend and stay longer.
"Working together and developing networks and relationships within their localities, they will help to enhance regional knowledge of local foods and contribute to an emerging Irish cuisine. This will truly utilise food tourism experiences as a sustainable economic development strategy.
"Fáilte Ireland's vision for food tourism is that Ireland should be recognised for the availability, quality and value of our local and regional food experiences, which bring with them a unique sense of Irish culture and hospitality. Ireland has all the ingredients to deliver on that promise.
"This educational visit to Canada will provide the tools for the Food Champions to return to Donegal and get behind their region in providing an opportunity to experience, see and taste a truly unique food offering, thereby generating more business for the local area."
Tags: