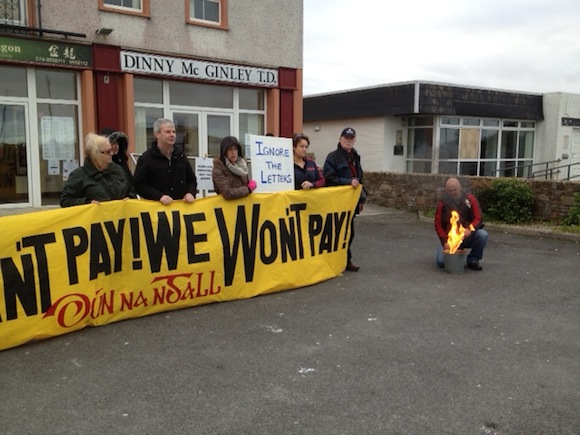 BREAKING NEWS: Protestors have burned more than 40 household demand letters outside the offices of Junior Minister Dinny McGinley in Co Donegal this morning.
More than a dozen protesters gathered outside Deputy McGinley's office in Gaoth Dobhair.
The group, members of the Can't Pay Won't Pay campaign, collected a number of letters from local people who asked to have the letters destroyed as a mark of protest to the €100 charge.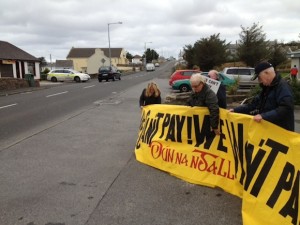 The Minister was not in his office at the time of the protest.
Gardai were present at the protest and took photographs of the protesters.
Spokesman for the Can't Pay Won't Pay group, Micheal MacGiolla Easbuig told DONEGAL DAILY he was outraged that Gardai were photographing protesters.
"I am outraged by what has happened here this morning. We have a legitimate right to protest.
"We should not be photographed by Gardai as happened here this morning.
"What are they going to do with these photographs and how will this information be used," he asked.
Mr MacGiolla Easbuig said he was now going to make representations to Deputy Thomas Pringle to raise the matter at a higher level.
"We have every right to protest in a peaceful manner and this is what we have done.
"I will be contacting Deputy Pringle and asking him to raise this matter in the Dail.
"We are now being watched over by political police and that is not acceptable," he said.
Gardai have since denied they took photographs of the protesters.
Tags: