Well-known Donegal Dr Jim McDaid has spoken of his "absolute shock" after attending the scene as the doctor on call when Erin Gallagher's body was found by her mother.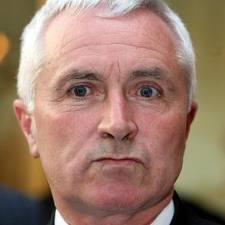 The Letterkenny GP was on duty for the NoWDOC doctor call-out service on Saturday when the tragedy occurred.
He said when Erin's mother Lorraine returned to the family home after being out she found her daughter dead on the stairs and her 4-year-old son wandering around.
"You see some things in this job and I have dealt with some very sad cases… But this was just a beautiful wee girl, a child. Of all the experiences in life, this must be the worst I have seen".
"She must have been so desperate that she didn't take that (the presence of her brother) into consideration," said a clearly shocked and upset Dr McDaid.
"Then another sister (Shannon) who is a bit older than Erin was at a friend's house at the time. So she had to be contacted and told that her wee sister was dead.
"It is just tragic, it is awful," he told the Irish Times.
Dr McDaid said Erin's mother Laura was inconsolable and completely shocked by what had happened.
"She was just stunned that her wee girl was dead. I went back to see her later again, she just couldn't believe what had happened to her wee girl."
Dr McDaid said he rushed to the Gallagher family home when the alarm was raised. He believed the emergency call was made at the same time Erin was discovered dead.
"I got there straight away. I thought she had been dead for two hours at that stage."
He was aware of the strong suggestions that Erin was subjected to harassment and bullying online, specifically on the ask.fm site, in the 24 hours before her death and in the period leading up to it. He was also aware of suggestions that she had been physically attacked.
"I really hope the gardaí investigate this and in as much as they can (investigate) the people who were bullying her," he said.
Tags: