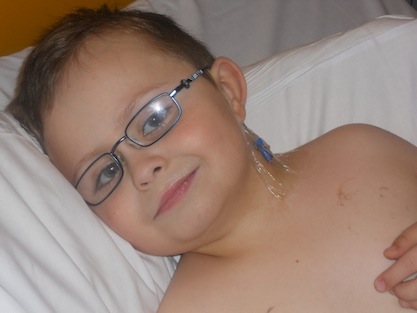 A well-known Donegal boxer has told how he had no problem hanging up his gloves after donating a kidney to save his son's life.
Hard-hitting Gary McCullagh has ate, drank and slept boxing from an early age since growing up in Raphoe.
He won numerous amateur titles with the famed Raphoe Boxing Club before joining the pay for punch ranks.
But now the dad of two has turned his back on the ring after choosing to save his son Christian's life.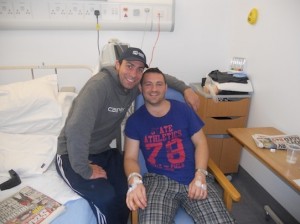 "I love boxing and it has given me so much in life. But your family are your family.
"I didn't give it a minute's thought when they told me I could give Christian my kidney but that I would never be able to box again," he said.
Christian was given minutes to live over four years ago after being born with numerous medical complications included under developed lungs, a leaking valve in his heart and was at the end stage of renal failure.
His family bid goodbye to their little bundle of joy twice before they discovered the baby's ability to fight for life.
Gary, 36, said: "We said goodbye twice to him. He wouldn't take to the ventilator in Letterkenny. An ambulance arrived from Holles Street, Maternity hospital in Dublin with equipment and he took to that.
"He was then taken to Holles Street hospital and was put on life support there. After that he spent fourteen weeks in Crumlin's Hospital for children. All in all he has had about twelve operations, probably more," he said
Christian was told recently that he would have to have a kidney transplant if he was to survive and was put on a transplant waiting list.
However, docs told Gardai he was a match but would have to wait until his son was old enough to take his kidney.
Gary was told last month that the operation was going ahead and last week the father and son travelled to Dublin for the operation.
"After the operation was over, my kidney had to be rushed from Beaumont Hospital to the Temple Street Hospital in Crumlin," he said.
Yesterday, while mother Aileen stayed by Christian's bedside, Gary was at home in Raphoe.
Gary admitted he was still was sore as he recovered from his recent operation.
"We are delighted that he has responded well. I am very sore but Christian is running around. He will be in hospital for around three weeks," he said.
The kidney from his father will mean a new life for him, his wife and his daughter Rocha. Before the operation, Christian had to undergo dialysis five nights a week.
During Gary's time in hospital he was visited by Ken Egan the Olympian boxing champion.
"I would know Kenny and he's a great lad. It was great and very decent of him to take the time out to visit me.
"I am delighted that I could give my son my kidney. A person can survive on fifty per cent of one, so I still have a full kidney. My operation took four hours and Christians took around six. I would like to thank surgeons Richard Power and David Hickey and their teams who operated on us both."
Because of his condition, Christian will never be able to follow in his father's footsteps inside the ring.
But Gary already has a plan!
"I am coaching already and hopefully Christian will join me. He can never box but it would be great if he can be involved with me," said Gary.
Tags: