A Donegal priest has condemned people who refused to open their doors to a mother of two little boys who were swept away in last week's Hurricane Sandy in the US.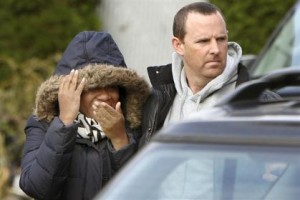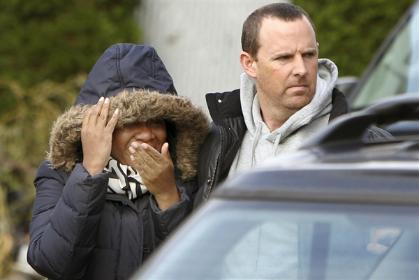 Devastated Glenda Moore banged on doors in Staten Island just seconds after losing a grip on her two sons Connor, 4, and Brandon, 2, during heavy floods and gales.
Nurse Glenda, who is married to Donegal man Damien Moore, 39, was refused help after her pick-up truck was flipped upside down on a road.
Just seconds later as she scrambled to get to higher ground, her sons were ripped from her grasp and washed away by rising waters.
Glenda rushed to nearby homes but one person told her to go away and another turned out a light in a house.
Fr. Philip Daly, of Damien's home parish of Portnoo, said he couldn't come to terms with the reaction of people to Mrs Moore's desperate pleas for help.
"You can't put into words what she must have been going through. That awfulness wasn't helped by the actions of these so-called neighbours who refused to give support to the poor woman.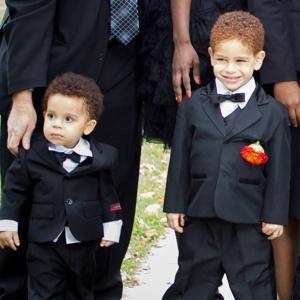 The pick-up truck was literally pick-up and thrown 30 yards backwards and she found herself in waist-height water. She was making to higher ground but another gust of wind
"When she went to the first house she was told to clear off and leave them alone and closed the door in her face despite her pleas for help. She then went to the next house and got no reaction there. She was all own her own.
"She was hysterical and I'm sure she got her message across but they weren't interested. Whether it was fear or not I don't know but it was a rather strange reaction to someone in need of support," he said.
The boys' father Damien was at work with the city council when the tragedy occurred.
Glenda decided to get into the couple's Ford Pickup truck when the storm hit and go to her mother's home after her electricity failed.
But during the hour long journey her truck was hit by a gust of wind and thrown 30 yards backwards.
She got out of the truck, found herself waist-high in water and decided to get to higher ground.
However just seconds later Glenda and her two boys were struck by a second gust which blew the boys away into the rising water.
The boys were found just 20 yards apart on Thursday last, days after they became separated from their heartbroken mother on Monday.
Fr Daly has been comforting Damien's parents, Paddy and Fay, who are in their 80s, retired back to live in Loughfad after spending a large part of their life in the US.
He said they simply cannot bring themselves to speak about what has happened to their little grandchildren.
But he said the entire community is now rallying behind them once the sheer tragedy of the events have come to light.
Since Friday last a steady stream of people have been calling to the couple's home with mass cards and other gifts for the family.
A person at the couple's home at picturesque townland of Loughfad, which is home to just 100 people, said that they were not planning on giving interviews to the media.
Local county councillor Terence Slowey said the local community are devastated by the news of little Brandan and Connor's deaths.
"Paddy and Fay are just salt of our the earth people and it's devastating what has happened to them.
"I think they met when they both lived in America. They are back in Donegal many years now and are very respected within the community.
"For something so freak and tragic to happen such a lovely family makes it all the more hurtful for everyone involved," said the Ardara-based councillor.
Local woman Kathleen Shovlin, who works in local shop, Nicholsons in Portnoo, said the fact that the accident had happened so far away made it all the more difficult.
"If it was here then people could go to the funeral and pay their respects to the family properly.
"But Pat and Fay are elderly and it will obviously be too difficult for them to get there.
"My husband knew Damian well and he said he was a very down-to-earth, straight kind of fella. It's just terrible.
"Everyone is trying their best around here just to go and visit them and be of some comfort to them," she said.
Fr Daly added "The parishioners here are a very Christian community. People started to talk about it last weekend. Up until that they felt restrained in the hope that the boys would be found alive.
"People then started to call to the house of Paddy and Fay and the house has been full until 12.30am each morning and they have found that very supportive.
"It is a terrible tragedy and our thoughts and prayers are with the family at this tragic time."
Fr Daly said Damien regularly visited home in Donegal where he has many cousins and other relations and the Moore family are very well-known locally.
Damien left Donegal in his 20s after working at a number of jobs in both the fishing and forestry sectors.
It is understood Damien's only sibling, his brother Patrick, who lives in England, has flown out to join his grieving brother in the US.
Fr Daly said "Damien was born here in Portnoo but emigrated young in life and married Glenda. He works for the city council in New York, but over the years always kept up contact with the area and visited his parents here at Loughfad. The news has come as a huge shock to locals in this area.
"The Moores are a long established family in the Portnoo-Kilclooney area. They have many cousins who reside here and relations are comforting Paddy and Fay at this difficult time for the family. Damien would have attended the local national school at Ballykillduff before he went to make his way in the world," he said.
Fr Daly revealed how Damien was in work when the hurricane hit.
"Glenda was concerned because there was no electricity in the house and she had two young boys. However, she said to Damien she would stay at home until he got back," Fr Daly said.
Despite her ordeal, the brave mother joined the search for her boys until their bodies were located by officers who had used heat-seeking equipment to search marshes.
On Friday night, the names of the two boys were read out as part of a remembrance which is held every year on the Feast of All Souls.
Fr Daly, also confirmed the family are hoping to arrange a remembrance in St Conal's Church, Kilclooney on the day of the funeral in New York which is still being arranged.
"For various reasons Paddy and Fay cannot travel to the funeral so the community felt it was important to show our support for them.
"We think the funeral could be Friday but we are not certain at this stage.
"Whenever it is arranged for we will also have a mass here in memory of the two boys and to pray for Damien, Glenda, Paddy, Fay and all their family and friends," he said.
He added that the only small consolation was that the boys' bodies have been found and that they can have a proper funeral and burial.
Tags: