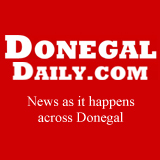 Thomas Pringle TD has today criticised the government over cuts to rent supplement which are now forcing greater numbers of people into homelessness.
Speaking on the matter to the Taoiseach at Leaders' Questions, the Independent TD for Donegal South West stated: "Your Programme for Government pays much lip service to tackling homelessness and pledges to put an end to long-term homelessness; this is all very noble.
"Yet, Focus Ireland have highlighted the fact that rent supplement payments have fallen by 28% in the last three years, while rental prices have remained steady, and in some cases have risen, forcing people out of their homes.
"Minister Burton previously stated in the Dáil that cuts to rent supplement would not result in additional homelessness, but this is exactly what has happened. Landlords have refused to accept lowered supplements and without having any savings of their own, people are being evicted, while others have been forced to give 'top-up' payments, putting further strain on the household.
"This is causing homelessness as a direct result of this government's decision to cut rent supplement – 97,000 households are dependent on rent supplement and introducing any further cuts means more people will be left without a home. Some landlords are charging extortionate rates for their property, but simply cutting rent supplement and waiting for it all to sort itself out isn't the solution. As long as there is a crisis in social housing, there will be a need for rent supplement.
"People on low income and who have a clear housing need should not be punished for this, it is up to this government to solve this problem, but so far they have failed and I am appalled by the Taoiseach's audacity to stand in the chamber today and deny all knowledge of the many families receiving rent supplement that are struggling to keep the roof over their heads. There is extreme poverty in this country with even the opening of soup kitchens to alleviate the suffering and it's about time that this government woke up and saw how people are really living as a result of their decisions.
"There needs to be a commitment to bringing forward the next scheduled review of rent limits from June 2013 with a view to increasing the thresholds for rent supplement to ease the urgent situation these people are facing, but the attitude of the Taoiseach today suggests he would prefer to continue on with this fiasco to the detriment of families nationwide."
Tags: