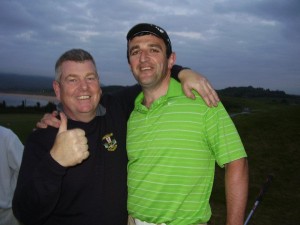 The first outing for this year's Central Bar Golf Society begins in Ballyliffen this Saturday.
The society was founded in 1991 and is captained this year by none other than the great Joe Coyle, pictured on the left here.
Anyone interested in joining this well established society should check out Central Bar Golf Society on Facebook.
The society is littered with ulster cup legends, musicians, storytellers and a great days golf plus craic is guaranteed. Favourites for the captains drive in include, Shiels, Dunleavy, Margey, Neilis & Gallagher as well as the captain himself Joe Coyle!!!
Tags: