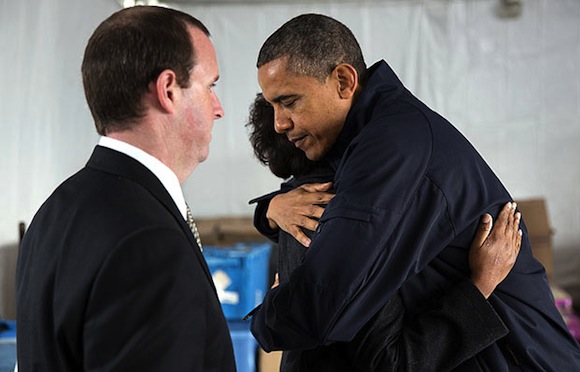 THIS is the moment US President Barack Obama sympathised with the parents of two boys swept away in the floods of Superstorm Sandy.
Mr Obama hugged both Donegal man Damien Moore and his wife Glenda as he toured New York to assess the continuing suffering in the city from last month's flood.
Damien, 39, from Portnoo, lost his sons Connor, who was four and two-year-old Brandon when they were swept from nurse Glenda's arms in flooding in Staten Island on October 29.
Damien, a worker with the city's sanitation department, was at work helping others when the tragedy happened.
His wife Glenda, a nurse, was turned away from homes when she went in a panic looking for help after she lost her boys.
Asked about the meeting, the President said: "I expressed to them as a father, as a parent, my heartbreak over what they went through.
"They're still obviously shell-shocked but they came here because they wanted to say thank you to all the people that have been supportive of them."
Mr Obama said the Moores had asked him to publicly praise an Irish-American New York policeman who has supported them.
The President said that "says something about them as well."
"When I hear the story of the Moores… that's what makes me confident we will be able to rebuild," said Mr Obama.
He said Lieutenant Kevin Gallagher should be hailed.
"For staying with them and doing everything he could so that ultimately, they knew what had happened with the boys, and were able to recover their bodies, and has been with them as a source of support ever since.
"That's not in the job description of Lieutenant Gallagher. He did that because that's what so many of our first responders do," he added.
"I'm very proud of you, New York," said the President, "you guys are tough."
Gallagher, 46,  is a 24-year veteran of the police force and has earned 64 police medals during his career.
Tags: