Pop star Rory Gallagher has revealed the Donegal GAA team saved his life after he suffered a nervous breakdown and became addicted to pills.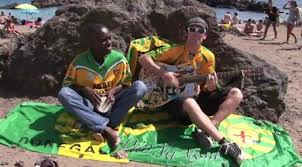 Rory's hit tune, 'Jimmy's Winning Matches', has notched up an incredible one million views on You Tube and topped the iTune charts recently.
Now the Kilcar singer has revealed his life was spiraling out of control until he penned the famous tune about Jim McGuinness and his All-Ireland winning football stars.
Rory revealed he suffered a nervous breakdown, was addicted to pills and was trying to cope with a failing career.
But his magical tune in honour of the Donegal footballers changed all that.
Rory, 32, who lives in Lanzarote, has now found a new lease of life and is about to start a nationwide tour.
"I was playing four hour gigs to drunken tourists and I just wasn't getting anything out of it.
"I was broke, playing horrible cover songs, drinking cheap booze and downing uppers.
"I just knew it couldn't go on," he said.
Rory admits he didn't go outside of his apartment for three weeks and was suffering form panic attacks.
He says the only thing that kept him going was his loving wife Cara who insisted he go for walks on the beach.
"It really was the scariest time of my life and I did suffer a mental breakdown. I just couldn't see a way forward," he said.
Rory found that light through his music and the icing on the cake came in the form of the song Jimmy's Winning Matches.
The song was originally and ode to his friend Jimmy from Senegal, a street trader in Lanzarote and was called 'Jimmy's Selling Watches.'
The video and the song went viral on You Tube and the rest is history.
It has become a hit around the world and has given him a second chance to become a star again.
"When Donegal captain Michael Murphy lifted the Sam Maguire Cup and then began to sing Jimmy"s Winning Matches at Croke Park, I knew I had won my All Ireland too.
"It has been a long road. The song is a calling card for me but people come to see me now and I can show them that I have a lot to offer as a singer," said Rory.
Tags: