A mother was forced to drive her unconscious son to Letterkenny General Hospital in her own car with a paramedic in the back as there was only one paramedic on duty at the time.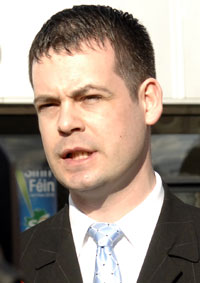 Sinn Fein TD Pearse Doherty has expressed shock at the incident.
He said "I was outraged to hear that such an incident occurred last Tuesday. It is reported that an emergency call was made for an ambulance to attend to a young child, who was unconscious.
"An ambulance was dispatched with one advanced paramedic, who was driving the vehicle. At the scene, the paramedic made the clinical decision, based on the needs of the child, to travel back to the hospital in the back of a car driven by the mother of the young child," he said.
Deputy Doherty said that when he sought clarification from the HSE on this matter, it was confirmed that the advanced paramedic was indeed working on his own from 5pm to 8pm on the evening in question.
"It was explained to me that this was due to staff reporting sick and requesting force majeure leave at short notice. I would ask why alternative arrangements were not made to ensure that there were at least two paramedics available to respond to any emergencies.
"It is completely unacceptable that a mother be required to drive her child to hospital in such circumstances, in a vehicle which is not adapted to the needs of the situation, simply because there is inadequate staff to drive the ambulance," he said.
The Donegal TD says he understands the paramedic in question requested that two paramedics who lived nearby be contacted to assist at the scene but this request was refused.
"This is the effects of budget cuts and austerity on our public services. Sinn Féin has been raising this very issue with the HSE for some time now and we clearly see the impact in this case"
The Deputy concluded "The circumstances of this case could have been tragic and as a parent of four young children myself, the potential outcome doesn't bear thinking about. I call on the HSE to immediately clarify how such an incident was allowed to happen, the reasons why the request to contact local paramedics was refused and to put stringent guidelines in place to ensure such an incident never occurs again."
Donegal County Councillor Ciaran Brogan has promised to raise the matter at the Regional Health Forum which mets tomorrow.
Cllr Brogan said he was made aware of the situation a number of days ago and says such a situation should never have happened.
"In many ways this was a fortunate situation in that the incident occurred just afew miles from the hospital.
"Had it have been 40 or 50 mies away, as is often the case, then we could have been dealing with a death here today.
"There was a breach in protocol and I know the paramedics are not happy with the situation. Of all places, because of Donegal's geographical location and size, this simply cannot be allowed to happen again.
"A paramedic should never again be put in such a position that he or she is forced to make an emergency call-out alone," he said.
Tags: