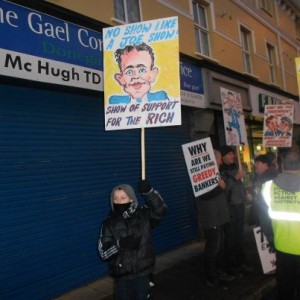 MORE THAN 500 people attended a rally in Letterkenny today in protest at cuts in last week's budget.

"The introduction of a tax on the family home with cuts in child benefit will cause hardship to many," said Can't Pay, Won't Pay spokesperson Francis McCafferty.
"These are huge burdens that many simply will not be able to bear while the cut in the Household Benefit package reeks of the most scrooge-like meanness: a tiny saving from the most disadvantaged in our society."
"We won't accept this. We did not pay the Household Charge and we will not pay Property Tax. This is the most effective weapon we have against this assault on our living standards."
TD Thomas Pringle also addressed the rally.
He said people needed to stand up to the Government over the cuts.
Tags: